Tags
Christmas, Easter, Easter Bunny, Holiday, INSPIRATION, Jesus, POST IDEAS, postaday, Santa, Santa Claus, Tooth fairy, WRITING PROMPTS
Could it be?  Two days in a row of Daily Prompt posts from moi?  Getting back into the groove, I am.  Oh, yeah.  I just busted out some YodaSpeak on you.  Be jealous.  Be in awe.  Be both at the same effin' time.
The Tooth Fairy (or Easter Bunny, or Santa Claus . . .): a fun and harmless fiction, or a pointless justification for lying to children?
Hmmm…can I choose all the above?  I see no harm in putting these charades on for our children.  They enjoy it.  It's fun for them to believe that a mysterious fairy sneaks into their bedroom at night exchanging money for teeth.  The absurdity of that thought doesn't creep into a young mind.  It's warming to see a child's reaction to finding a bunch of chocolate in a basket Easter morning, and to find that all the eggs they worked so hard decorating have all disappeared and that they have to go find them.  It's especially precious to see your children interact with Santa at the mall and their giddiness on Christmas Eve as they anticipate a visit from jolly old St. Nick.
As fun as it is, however, I also don't see the point in these things besides how fun it is for the children.  Or maybe that's the entire point.  But what does it do to our children's expectations when they find out these things they've believed in for so long are fake?  That their parents, who have for so long taught them the value of honesty, have been lying to them?  What values does it teach them when the meaning of Easter and Christmas is about receiving things instead of celebrating the life and death of Jesus Christ?
Furthermore, I question how these things even became to be the phenomenons they are.  Who came up with the idea that you should get money for losing a tooth?  Why on Earth should you get paid for going through a natural part of life?  I didn't get money for going through puberty.  What's up with that?
I understand that the giving of Christmas gifts is supposed to symbolize the giving of gifts from the Three Wise Men to Jesus on the night of his birth, but look what it's turned in to.  It's a massacre.  People have literally died on Black Friday.  Riots erupt at stores who run out of that have-to-have gift of the moment.  People being rude to each other.  Pushing and shoving.  Anger and vitriol.  And then when it's all over, we all line up at Wal-Mart to return the gifts we don't like.  How materialistic and sad.
I must confess, Easter confuses me more than the others.  I still have yet to figure out how the death and resurrection of Christ turned into a bunny who hides your eggs and brings copious amounts of sugar to your children.  Yay for hyper children, cavities, and diabetes?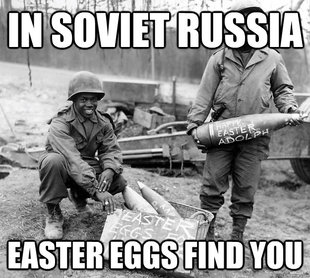 The meaning of all these things have gotten lost in today's society and it's kinda sad.  Even after writing all of this I'm still undecided as to which way I'm even leaning towards in response to this question.  Again, it's fun for the kids but what's the ultimate cost?  I don't know so I guess I can't honestly answer.
Eh, I'll let you guys decide.  What do YOU think?
Check out these other great Daily Prompt posts